Hi, I'm Byron Miki and thank you for visiting my site. Here are some quick notes about me that will help us get to know each other over time.
Firstly, I really enjoy conversations. I like meeting people and hearing about their stories. I believe everyone has a story and by sharing our stories we can find ways to connect at a deeper level. A coaching relationship is built on an understanding that starts with a simple story.
I have spent the past thirty years as an entrepreneur and coach. Some of my businesses have fared poorly and a few have been ridiculously SUCCESSFUL – the result of bold actions and a willingness to do THE work on the way to victory. I combine real world business experience with one-on-one therapeutic skills. I go beyond the usual strategies for success by applying proven techniques as a strategic interventionist. It's my hope that I can contribute to your success by helping you navigate through challenges that are sure to be encountered.
Okay – what else am I interested in? Below are things that have meaning to me. I hope they serve as a possible starting point for a future conversation. Otherwise, I hope you enjoy the rest of this site and please send me your comments or questions. I'd love to hear from you.
Sincerely,
Byron Miki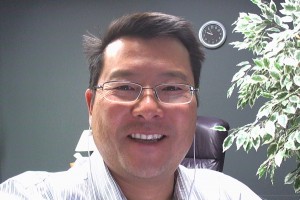 And Here's The Rest Of The story…
Just to prove to you that I'm human:
I like fried chicken but rarely eat it. During a ten day silent Vipassana meditation, a bucket of Kentucky Fried Chicken danced in my mind for nine long days. I still spar with this friendly teacher during moments of contemplative reflection.
I like hiking in the forests behind my house (I live on the edge of the Okanagan Mountain Provincial Park). I once accidentally came face to face with a black bear while jogging too quietly on his trail. I learned quickly that sometimes it's better to retreat than be the hero. Oh the fight-flight response is strong in this Paduan.
I enjoy watching my daughters play baseball. I often imagine my father playing ball as a youngster and see his gentle determination in them.
I still enjoy grocery shopping with my wife. We do other things too.
I like my cat, mostly… (still working on that one).
I like sports, especially when a team is on a winning streak. I enjoy playing golf but rarely watch it on TV. I love everything about baseball. I'm learning a lot about softball. And then there's hockey… okay, I'm Canadian, eh!
Wait a minute. Please pause here. There is more but only read further if you feel you must…
Here are the types of clients I have worked with:
Ten years ago I worked mainly with clients who suffered from depression, phobias, anxiety, trauma, suicidal tendencies, and addictions. They were good times and very rewarding. I still do lots of this work because I learn so much from it, but now my clientele involves both remedial and generative activities.
Today, the bulk of my focus is directed towards:
Business Leaders
Entrepreneurs
Professionals
Elite Athletes
Artists, Musicians, Performers
My clients come from a variety of backgrounds: high-tech, trades, managers, front-liners, actors, producers, bankers, writers, salespeople, marketers, advertisers, real estate developers, salespeople, financial planners, real estate agents, musicians, artists, dancers, therapists, elite athletes, sports teams and non-profit executives.
Here are the main businesses I have started as well as a few full-time contracts I have completed:
Real estate developments (128 units on a variety of Okanagan sites). Investor, Advertising Coordinator, Marketing Advisor, Occasional hammer swinger and shovel pusher.
Kelowna Hypnotherapy Centre – Founder, Counselling Hypnotherapist
Orca Institute of Counselling Hypnotherapy – Instructor/Business Consultant
Professional Image Office Centre – Co-Owner/Marketing Manager
Swift Trade Private Hedge Fund – Momentum Trader
Metropolitan Property Tax Consultants – Co-founder with Surrinder Toor who is an Entrepreneurial Genius
Prior to ancient history I worked as:
Software Programmer (Linian Systems)
Accounting Software Support and Technician (QW Page and Associates)
Human Resources Administrator (Imperial Oil Limited)
Editor, Writer, Advertising Mad Man (Samson Marketing Communications)
Publisher (University of Toronto, Scarborough Campus – The Underground)
Fence Designer, Fence Builder and Fence Demolition Expert (Owner/Operator)
Here are my main teachers:
Mike Mandel, PhD – The Best Modern Hypnosis Instructor!
Stephen Gilligan, PhD – Hypnotherapy Pioneer and Ericksonian Expert
Tad James, PhD – Time Line Therapy Innovator and NLP Instructor
Anthony Robbins – Leading Expert in Modeling Excellence
Here's what I'm studying right now:
Social Media Marketing – Michael Stelzner, Chris Brogan, Jay Baer
Experts Enterprise – Hugh Culver
Human Givens Approach – Joe Griffin and Ivan Tyrrell
Faster EFT – Robert Smith
Make Stress Your Friend – Kelly McGonigal
Strong Influencers whom I have never met:
Rudolf Steiner
Steve Jobs
Chikara Kumagai
Ichiro Suzuki
Milton H. Erickson
I completed a formal education that involved a wide variety of studies in the liberal arts as well as some specific skills in Leadership and Communications:
NLP Master Practitioner and Trainer Certification – American Pacific University, Tad James.
Trainor's Training/Mastery University – Anthony Robbins Trainers Academy
Computer Programming and Systems Analysis Diploma – Honeywell Institute of Computer Studies
Advertising Agency Operations Certificate – Institute of Canadian Advertising
Marketing Management Post Graduate Certificate – Ryerson University
Advertising Communications Post Graduate Certificate – Ryerson University
Bachelor of Arts (Economics & Anthropology) – University of Toronto
Private First Class, Infantry Training – Canadian Armed Forces
If you've read this far, I respect your thorough research skills. I appreciate your patience and I promise to draw upon all my resources and experience when we work together. Of course there is much more about both you and I, that we need to discover. I hope this listing can serve as a starting point in building a productive professional relationship. Everything matters.